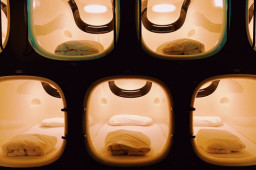 Whenever I am at Moscow's Sheremetyevo airport, I always check out the capsule hotel and debate whether to take a rest in one of those mini pods. To date, I haven't pulled the trigger, but when I saw a presentation at this year's Black Hat called Hacking a Capsule Hotel — Ghosts in the Bedroom, I had to check it out.
The speaker, Kyasupā of LEXFO, described how he was looking to save money on a holiday, by staying in a capsule hotel. For anyone unfamiliar, capsule hotel rooms are typically small spaces with a bed, a fan, and a curtain to block out fellow guests. Other facilities such as dining areas, bathrooms, and the like are shared. In other words, showing basic respect for one another is really important in a capsule hotel.
Comments are closed.